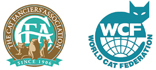 The Somali – the brilliance of the sun, the shining and delicacy of silk, luxurious, gorgeous coat.
The SafraNika cattery breeds Somali cats. We seek not only to preserve our beloved breed and its fabulous character, but also to reveal on a new scale the extraordinary beauty of the Somali.
Our cats were brought from catteries of Russia, Germany, and the USA. We deeply respect the work of the breeders who raised their cats with love and entrusted them to us.
Our family has always had cats. The last cat lived with us for more than 20 years and will remain in our hearts as a part of our soul forever.
The first Somali in our life was the beautiful Alisa (Kondissa Nigth of Nuby) from Saint Petersburg, fantastically affectionate and mischievous, vivid, swift, a hunter and a playful cat. She charms with her grace and an independent air.
Then, after lengthy negotiations with the German cattery Kumasasa, our "Mister Somali" Odaiko (Odaiko of Kumasasa) came to us; he is very clever, kind, always calm and incredibly handsome. He is of uncommonly bright, rich color, has a luxuriant tail, trusts people a lot and is very charismatic. Neither experts on cat shows nor viewers remain indifferent to him, and he holds the title of the pride leader with great dignity.
In autumn 2009 our American princess Aileen (Hillstblues Aileen) came to us from faraway California. Very gentle, touchingly tender, she resembles an exotic flower. Slender, lively, with expressive, very beautiful eyes and a fluffy tail. She charms with her gentle voice and harmony so characteristic of her.
Our pets take part in Russian and European cat shows, and our Somalis' triumph achieved in shows within various systems proves their high innate status. But participation in cat shows for us means not so much titles and victories - though we, undoubtedly, enjoy them, - as advertising of the Somali breed, for in Russia the number of such cats is low and they are little-known.
Our pets are members of the family; we pass warmth and care from heart to heart. And the most essential thing for us is their health.
All our cats were tested for genetic inheritance in the best laboratories of Germany and the USA.